Furious Fuschia?
In: News
Posted By: Alfred K at 11:34 pm
11 Feb 2010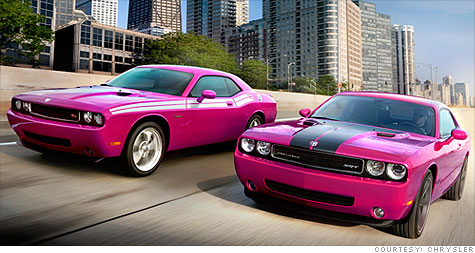 NEW YORK (CNNMoney.com) — Furious Fuchsia, a pair of words not often seen together, is the name of a new special edition Dodge Challenger muscle car.
The bright purple cars from the still struggling Chrysler Group, available on V8-powered R/T and SRT-8 versions, will be officially unveiled later this week at the Chicago Auto Show, but the company provided photographs ahead of time.
Photographs don't really do justice to Furious Fuchsia, Chrysler spokesman Dan Ried insisted, while acknowledging that fuchsia might seem an odd color choice for a male-oriented car.
"I saw it in person and it actually looks pretty cool," he said. "It's tough to capture how it looks in the daylight."
I mean its probably the nicest line of cars Dodge has, but still, quit the line of BS. If I see one of these on the road I might puke. The only thing worse is one of these:
Also, conveniently, made by Chrysler. Hmmm, I wonder why they are going out of business…