25 Students Jailed for Food Fight
In: News
Posted By: Alfred K at 9:15 pm
12 Nov 2009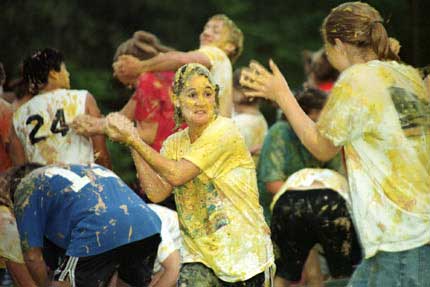 The food fight here started the way such bouts do in school lunchrooms most anywhere: an apple was tossed, a cookie turned into a torpedo, and an orange plunked someone in the head. Within minutes, dozens of middle-school students had joined in the ruckus, and spattered adults were ducking for cover.
By the end of the day, 25 of the students, ages 11 to 15, had been rounded up, arrested, taken from school and put in jail. A spokesman for the Chicago police said the charges were reckless conduct, a misdemeanor.
That was last Thursday afternoon. Now parents are questioning what seem to them like the criminalization of age-old adolescent pranks, and the lasting legal and psychological impact of the arrests.
"My children have to appear in court," Erica Russell, the mother of two eighth-grade girls who spent eight hours in jail, said Tuesday. "They were handcuffed, slammed in a wagon, had their mug shots taken and treated like real criminals."
Now normally I would say this is a bit outrageous. But with the state of the economy these days, I'd say this really was a crime. Shit, when I was at school, lunch was the only good part of the day–I savored it. Whether it was a pbj, a can of tuna, a bag of chips or a few spoonfuls of yogurt, lunch was not a thing to waste. Then again, in food fights, just like pillow fights, sometimes we let our emotions get the best of us.