Motorist Hits Pedestrians, Drives Away With One Lodged In Windshield
In: News
Posted By: The Booze at 9:00 am
28 Oct 2009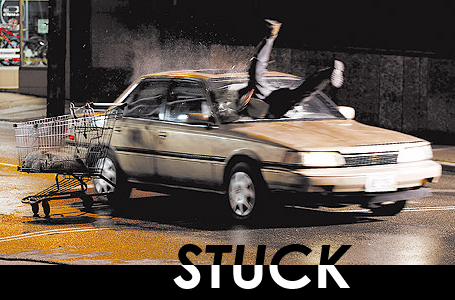 PROVIDENCE, R.I. – A motorist driving past a fender-bender struck three men standing on the side of a highway and drove more than a mile with one of them lodged in his windshield, police said.
Christopher Swiridowsky, 30, of Providence, was charged with leaving the scene of an accident. On Monday, he was ordered to stay in jail for allegedly violating bail from another case.
State police said the three men were standing on the side of Interstate 95 early Sunday to check for damage following an earlier, unrelated crash. Swiridowsky drove into the trio and one of them, Jose Flores, 24, became trapped in Swiridowsky's windshield and remained lodged there for 1 1/2 miles, police said.
Swiridowsky stopped only because someone was following him, police said. He fled on foot and was later found hiding in his home, police said.
I almost didn't post this story because the title was funnier than the actual story itself. However, for some reason I decided to Google "stuck in windshield" for kicks. That's when I came across a 2007 movie called "Stuck" starring Mena Suvari, who for some reason is sporting corn rows. From what I can tell, it seems like a feature-length public service announcement regarding the dangers of texting while driving.
I don't remember hearing about this movie, so I doubt it saw the big screen. However, in the event that it did, I commend myself for repressing such a horrible memory. Here's the preview…