The Girl Who Doesn't Grow
In: News
Posted By: Alfred K at 7:36 pm
24 Jun 2009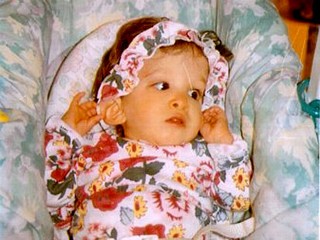 Brooke Greenberg is the size of an infant, with the mental capacity of a toddler.
She turned 16 in January.
At about 16 pounds and 30 inches, 16-year-old Brooke Greenberg has not aged significantly, physically or apparently cognitively, since she was a toddler. Doctors hope that her case could shed light on the mysterious genetics behind aging.
When asked by reporters what is the most annoying thing about having a baby-like teenager, her parents responded, "It's got to be all the creeps out there who keep asking us if they can have sex with her. Â To them, it seems like a sweet way to have 'legal' sex with a baby."